Shopping for a quality bassoon is tough.
While there are definitely high-quality instruments being made, bassoons are made in much smaller numbers than most other woodwind instruments, and the price tags of intermediate – and advanced-level instruments makes them a significant investment.
If you're unsure of where to start your search for a high-quality bassoon, let us help!
Buying a Bassoon
Buying a bassoon is a big undertaking, and before we get to our recommended brands and models, here are some things to look for in your bassoon search.
Remember that although there are certain brands with higher (and well-deserved) reputations, make sure that you play any instrument (or let a trusted teacher or colleague play it) before purchasing.
Bassoons, like every instrument, can vary from model to model and you don't want to spend your hard-earned money on anything less than the best bassoon!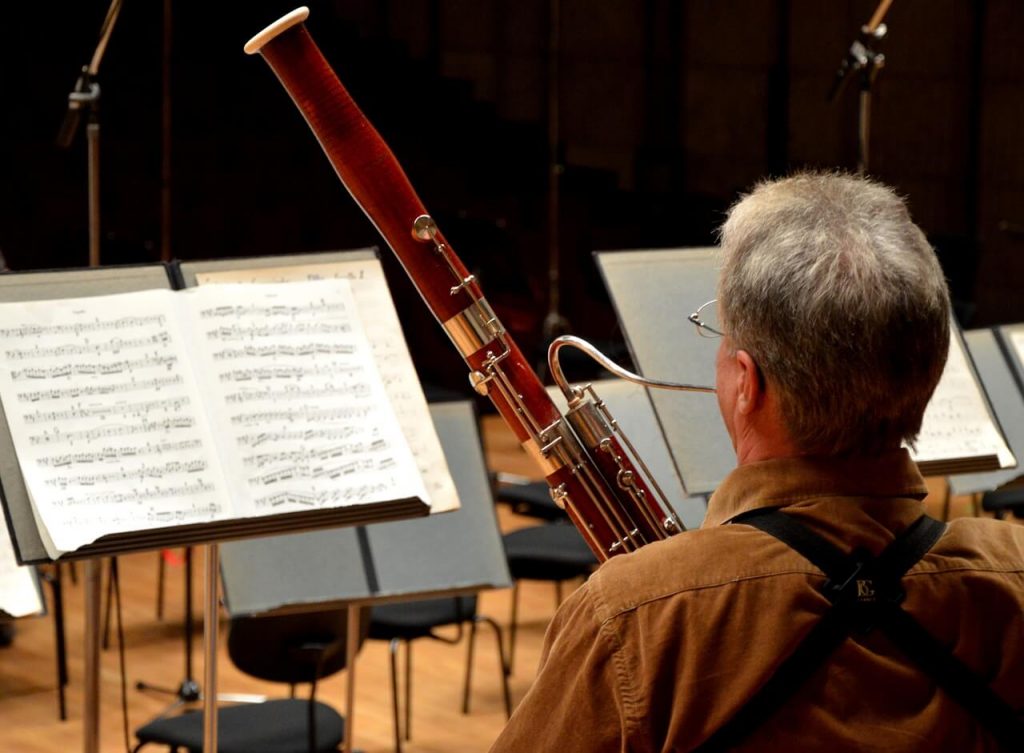 What to Look for In A Bassoon
If you've never shopped for a bassoon before, here are some of the basic things to check out on any new instrument.
This list is not exhaustive – if you're a young player or this is your first time bassoon shopping, make sure to have a trusted teacher or colleague with you!
Plastic vs. Wood – Like most woodwind instruments, bassoons are offered either in plastic or wood. While the plastic or vinyl used in very inexpensive instruments is not great, some makers (such as Fox) use a high-quality polypropylene that sounds quite good and is resistant to moisture and humidity, although many professional players still use wood bassoons. In general, the weight difference between a wood and plastic bassoon is minimal.
Plateau vs. Ring key – The third finger hole for the left hand generally has a ring key, although for a player with small hands (like a beginner) this may cause an uncomfortable stretch. For those players look for a bassoon with a plateau key instead – this can reduce the stretch and improve player comfort and dexterity.
Extra Keys – There are usually several options on key work for the beginner or intermediate bassoons. The high D key is strongly recommended even for beginner instruments. The high E key Isn't used by beginners but should be present on an intermediate-level bassoon. Also, a whisper key lock is valuable to have on intermediate-level instruments.
Bocals – While picking out a bassoon is important, make sure you are trying out a new (to you) bassoon with a bocal in good condition. Bocals can drastically affect the way an instrument plays, and a damaged bocal won't work well on even the best bassoon!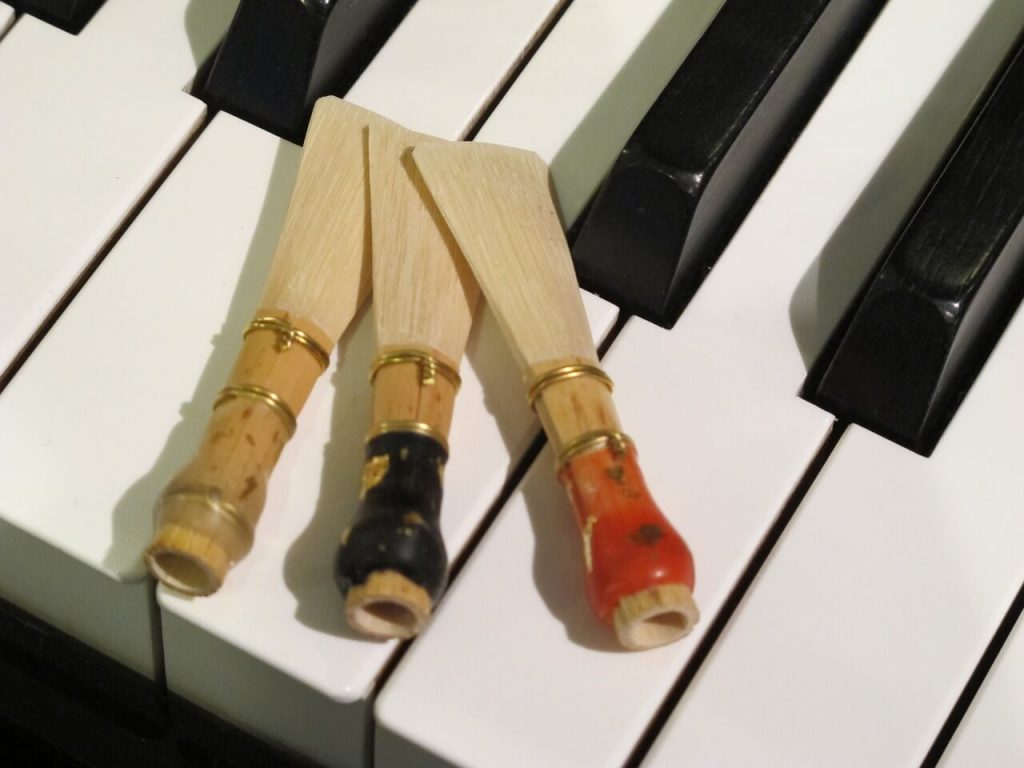 Buying A Used Bassoon
Bassoons are very expensive, and high-quality intermediate instruments can cost $5,000 and up, with professional-level instruments exceeding $20,000.
You can get a great deal on a bassoon, though, if you're willing to look at the used market. There are some important considerations for used instruments, though.
This is a good basic checklist when you're considering a used instrument at any price!
Give the instrument a thorough examination – Make sure to check out the instrument carefully. Examine the body for missing keys, mismatched screws, and damage to the key work or the bassoon's body. Examine the pads, but know that regular pad replacement is part of routine maintenance. Make sure to check the boot joint and underneath the boot cap for signs of moisture damage, since it usually originates in this area.
Take the instrument to a qualified bassoon technician – A qualified technician will be able to perform a much more thorough examination of the entire instrument to check for short- or long-term problems. Make sure to not skip this step!
Let your private teacher (or a professional bassoon player) try out the instrument – If you're an advanced player, then you may be able to skip this step, but even pro players usually ask for a colleague's opinion in new instruments. How the bassoon sounds in a large hall with an ensemble is an important consideration.
Ask about the instrument's past – This can help avoid buying stolen instruments, and if the instrument was used in a school setting you may need to budget more money for repairs and maintenance since school instruments often receive questionable treatment.
Contact the manufacturer to find out more information – Emailing or calling the manufacturer or the bassoon with the serial number will usually get you some information about the age of the instrument and any special customizations that were done (custom key work, etc.). Manufacturers will also sometimes be updated if an instrument is stolen, and so this can help to make sure you've got a "clean" horn.
Best Bassoon Brands
Here are some of the best brands for just about anyone to look into when considering buying a bassoon.
While these manufacturers aren't the only makers of quality instruments, these are good places to start for anyone – beginner to advanced.
Fox and Renard
Fox, located in South Whitley, Indiana, has been making high-quality professional bassoons since 1951. Fox also makes intermediate-level (but very high quality and consistent) instruments under the Renard brand.
Both Fox and Renard instruments are handmade in-house in the same factory, and while Fox bassoons are definitely exceptionally made (and priced accordingly) the Renard instruments are excellent instruments for a wide range of players – from serious high schoolers through college and beyond.
Fox and Renard Options
Unlike many other brands, there are lots of aspects of a Fox or Renard instrument that can be customized.
This allows you to make a new bassoon "yours", but it can also lead to lots of choices if you're not sure exactly what the options mean.
If in doubt, make sure you ask your teacher or another bassoonist you trust.
Bore Options – Fox and Renard offers bassoons in long, short and thick-wall bores. Long bore instruments generally favor the low register and have a bit warmer sound, with fairly stable intonation, while the short bore instruments enhance the tenor register and are a bit brighter with more flexible intonation. Models with a thick-wall bore, have thicker walls and bigger tone holes, delivering more volume and power, but needing a bit of extra effort to play.
Key Options – Fox also offers a wide variety of key options for their bassoons. Lots of rollers, trill keys, whisper key locks, and other options to make your head spin!
Best Fox and Renard Bassoons
Fox Model IV
This plastic bassoon is a great choice for a wide range of players, from a more durable professional instrument to a more affordable choice for younger players.
While the body is polypropylene (instead of the cheaper plastics used by other makers), the rest of the bassoon still features the craftsmanship and attention to detail that is the hallmark of Fox bassoons.
Although this is a plastic instrument, it neither sounds nor plays like one, and lots of professional bassoonists use this as an "outdoor" or "marching band" instrument.
Pros – Despite the plastic body, the key work and overall playability and sound of this bassoon are much more reasonable than a comparable wooden bassoon, and plastic is much more durable in most situations than wood.
Cons – While this bassoon sounds good, it doesn't have quite the richness and depth that a wooden Fox bassoon has. Some people always look down on plastic instruments – no matter how well they are made or how they sound.
A great instrument at a great price, if you are willing to look past the plastic body construction.
Renard 220 or 240
These intermediate wooden instruments are both excellent choices for any aspiring professional or active amateur player.
While most players and teachers do have a preference, both the 220 and 240 are included here so that the student can make an informed choice.
The 220 is a long bore instrument, while the 240 is a short bore bassoon, and so they do play and sound a little different.
Make sure that you get your hands on both to give them a try before you buy – you don't want to spend several thousand dollars on an "okay" instrument when you can spend it on an "outstanding" one for yourself!
Pros – A lot of instrument at a very competitive price. The ability to pick either a long or short bore means that you can (with the help of a teacher or other bassoon player) pick an instrument to suit your own playing style.
Cons – The Renard-branded instruments don't have quite the same level of key options that Fox bassoons have. Make sure you try out as many of your preferred model as possible. Although it's rare, there are "duds" from every instrument maker every now and then.
If you are ready for a high-quality wooden bassoon, but not quite ready to sell your car or mortgage your home to finance it, these two Renard options are excellent choices for the vast majority of advanced players.
Fox 660
If you're looking for the Fox, the 660 is the standard choice. It is both a short bore and a thick-wall bassoon, which gives it a big sou top-of-the-line bassoon, flexible intonation, and a singing higher register.
The 660 is generally a better choice for most players than the 601 (long bore and thick-walled) since it is a little more adaptable in a variety of musical styles and situations. The 601 maybe be the best choice for a full-time 2nd bassoonist, however.
Pros – The characteristic singing "Fox sound", with a lot of richness and projection from the thicker-walled design makes this a great instrument for all ensemble sizes. While it's comparable in quality to the classic Heckel bassoon, these are much less expensive, and the waiting list is not quite as long.
Cons – The 660 doesn't have as much power in the lower register as the 601, so if you do a lot of low playing, that may be a better choice. The 601, however, suffers from an often-squirrely high register unless you find the "perfect" bocal, though.
For many bassoonists, the Fox 660 is the perfect balance of a great playing and sounding bassoon with a price tag that doesn't break the bank!
Heckel
Heckel is one of the oldest and most widely-respected brands of bassoon makers in the world, founded in 1831 in Wiesbaden, Germany.
The founder of the Heckel company, Johann Heckel, along with musician Karl Almenrader, refined the bassoon's fingering system over many years, and many modern instruments still use the Heckel (or German) fingering system today.
Unlike Fox, Heckel offers very few options on their instruments, and there are essentially only two models of Heckel bassoon in production today.
Best Heckel Bassoons
Heckel Crest
The Crest is as close as Heckel comes to producing a student- or intermediate-level instrument, but this is still a high-quality and professionally made instrument.
Instead of being made on an assembly line like the top-of-the-line Heckel, the Crest is made on an assembly line with many different skilled workers, instead of a single master craftsman.
Pros – Even though this is a "budget" Heckel, it's still got the classic Heckel sound and these generally play very well – maybe not as well as the "top" instruments, but at about half the price, you get your money's worth!
Cons – Not cheap. Additionally, due to the way that these are constructed, custom key work options are essentially non-existent.
A great way to get the Heckel sound. If you don't need lots of custom key work, this may be a great way to upgrade to a Heckel
Heckel Model 4LI
When people talk about a Heckel bassoon, this is "the" model. The 4LI is a heavy instrument, and produces a big, powerful sound – and has a big price tag to match.
However, the craftsmanship in these instruments is impeccable, with each instrument being handmade by a single master craftsman.
The handmade nature of these instruments means that you can request almost any sort of custom key work, and generally, they will be able to accommodate you (for an upcharge, of course).
While they are expensive and heavy, the Heckel sound is pretty much the gold-standard of a big, orchestral sound, and these instruments – both new and used – are highly sought after.
Pros – "The" premier bassoon. A rich and powerful sound, with lots of key options to fit your hands and your playing style.
Cons – If you are getting a Heckel, you know what you're getting into. These things cost as much as a luxury car and weight almost as much – but for many players, these are worthy trade-offs.
The Rolls-Royce of bassoons, if you can put up the cash and stand the multi-year wait!
Conclusion
Buying a bassoon – whether for a beginner or a seasoned professional – is an expensive undertaking.
However, having your own instrument is a great investment in music making and in yourself.
Also remember that while expensive, a well-cared-for bassoon can last for decades!