The bagpipes are an incredible instrument unlike any other, making it exceptionally difficult to understand what you are buying.
When you look at various options online it can be difficult to determine which are the best bagpipes for your needs.
How is it possible to decide from all the options?
This article will lead you to your next set of bagpipes by guiding you through the process of understanding what your needs will be and how different sets of bagpipes can be right for you.
Buyers' Guide to Your New Set of Bagpipes
This guide will take you through several considerations you need to make when purchasing a set of bagpipes.
It will help you to understand all of the parts of bagpipes, how to play the bagpipes and what to look out for as well as key brands to consider.
Use the reviews to help you select the best bagpipes for you.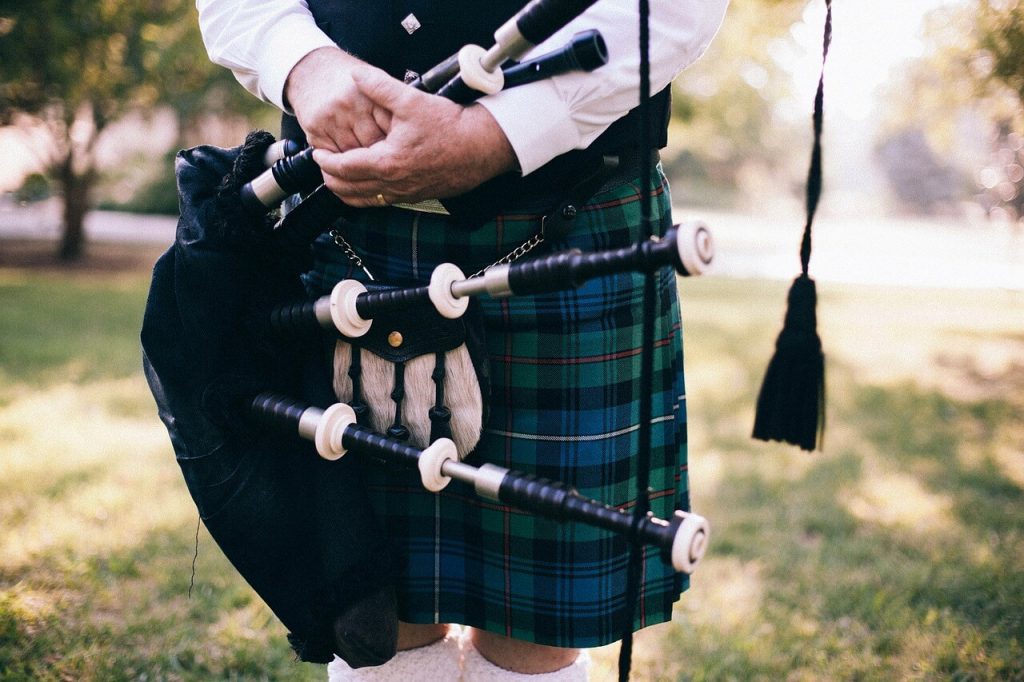 What considerations need to be made before buying
It is important to note your capability as a bagpipe player.
All bagpipers start on a practice chanter and continue to use that throughout their musical life. The practice chanter is an inexpensive way to see if bagpipes are for you!
The second consideration is the material you learn from, and instruction.
Bagpipes for hundreds of years were taught by impartation and is still the best way to learn the eccentricities of the instrument.
The standard used today is the College of Piping Tutor Book, which explains the basics before investing in a full set of bagpipes.
There are many options as found below that can enable you to learn the bagpipes without purchasing a more expensive full-sized set. Consider, for instance, starting with just a chanter pipe for practice of finger patterns before moving onto the full set.
Finally, it is important to know about the parts of the set of bagpipes and what options you have.
The next section will allow you to understand the options you have for each part of your set of bagpipes and how they affect the playing of the instrument.
Read on to find out more.
The Anatomy of the Bagpipes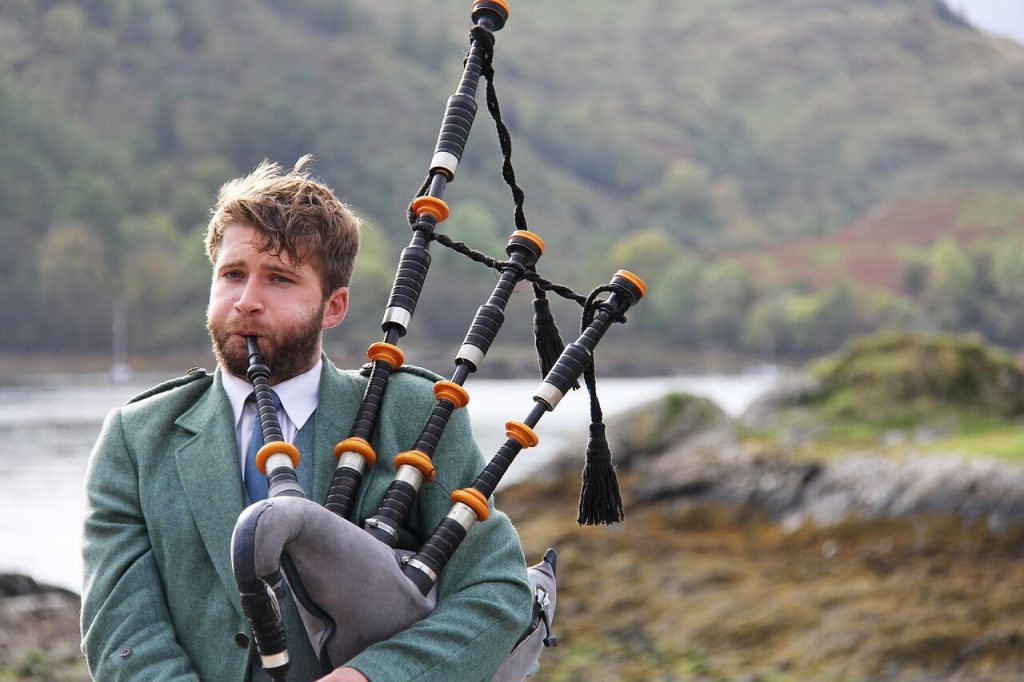 Blowpipe/Blowstick
This pipe allows the player to fill the bag with air; it is attached to the bag.
The player uses this blow pipe to continuously fill the bag with air so that the pipes will sound continuously. The blowing is part of the playing that can prove most difficult as it requires continuous coordination of air through the blow pipe into the bag and squeezing the bag.
Drones
Bagpipes utilize a variety of different drones some models having more than others. All bagpipe drones create the lower continuous sounds that immediately are recognizable as the bagpipe sound. What we are discussing today are the Great Highland Bagpipes which always have 3 drones (2 tenor and 1 bass).
Most bagpipes offer two drone sounds an octave apart: bass and tenor. This allows the bagpipes to sound like they have their own accompaniment. These drones come from the pipes that point upwards over the player's shoulder.
Often made from bamboo stalks or synthetic materials the drone reeds sit as a long valve-like part to the bagpipe inside the drones themselves. The reeds are what allows the air to vibrate and create the production of sound.
Bag
The bag has to be filled with air continuously through the blowpipe/blow stick in order for sound to be produced from the instrument.
The air is squeezed out by the player with the help of the arm and the air then moves the drone reeds and chanter reed. The arm pressing the bag must maintain a constant pressure and the air flow into the bag must allow for this in order to keep the constant drone.
Chanter Pipe
Held with two hands vertically down the placing of fingers to cover holes produces different notes for the melody.
This can be one of the most challenging parts of playing the bagpipes as it takes great skill to use the holes to produce 9 different notes.
Two cane slivers, bound and wrapped, encased in the chanter create the high-pitched melodic sound.
Drone Cords
A simple silk cord that hangs between the drones, this looks like it is there to dress up the bagpipes.
However, they serve an important purpose.
When holding up the bagpipes the drone cords offer support to each other and ensure that they do not cross or fall apart from each other. This means it is easy to keep all drones in the upright position whilst playing. They are also set to your personal comfort so the drones rest on your shoulder and arm, creating a comfortable playing posture.
How do You Play the Bagpipes?
All bagpipes involve the air supply filling up the main bag and then two sound types emitting from the bag: the drone and the melody.
The drone plays a long and continuous tone whilst the melody is formed by the chanter.
First, you must fill the bag with air through the blowpipe.
Next, you must squeeze the bag with your arm towards your torso, this will produce the continuous drone sound. Once you put your fingers down on the chanter to cover up the holes, the melodic line will start to ring out over the drone.
The sound stops once all the air has been squeezed from the bag, which is why a player continuously blows through the blow pipe to keep the bag inflated.
This video is a quick introduction to playing the bagpipes.
Bagpipes: ways to learn:
The bagpipe can be a complicated instrument to learn all at once.
It is never worth buying the full-sized instrument to get started, rather purchase a practice chanter and a good instructional book as discussed.
A Rosewood practice chanter and book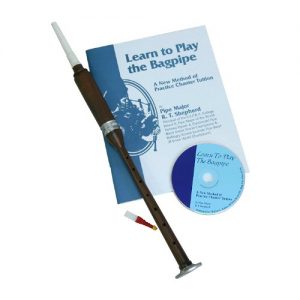 Click Here for Pricing, Pictures and Reviews on Amazon.com
This practice chanter means that before buying a set of bagpipes you can master the skill of playing the chanter and understand the finger patterns for closing the holes.
This option would mean that you could have the more difficult part of playing the bagpipes mastered before moving on to one of our best bagpipes for beginners from the reviews below.
So, it still serves a purpose once you have moved onto the full set of bagpipes.
Practice chanters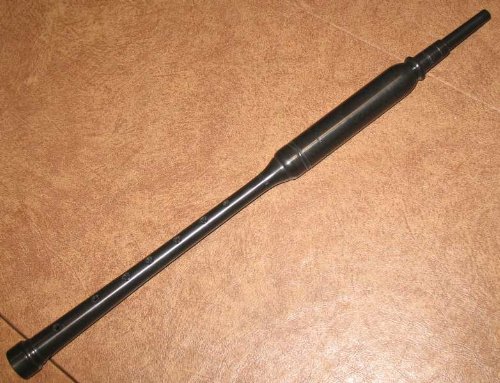 Click Here for Pricing, Pictures and Reviews on Amazon.com
Starting out, you will want to purchase a durable practice chanter as it will be dropped and knocked around as you learn. Practice chanters made from polypenco will last a lifetime and will have larger holes than those made of wood. Wooden practice chanters have a better tone but are for more advanced bagpipers.
Rosewood Bagpipe without drones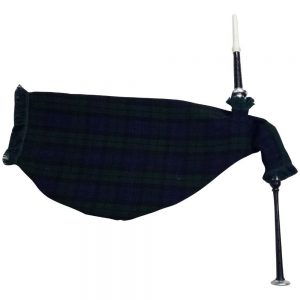 Click Here for Pricing, Pictures and Reviews on Amazon.com
This set of bagpipes could be the best bagpipes for beginners in that it allows a novice to learn the finger patterns whilst still having the blow to fill the bag and squeeze the air from the bag with their arm.
This will allow a player to develop the full skill of the playing of the bagpipes before upgrading to the full-sized set. It will prepare a player for all of the parts of playing a set of bagpipes well.
TOP 6 Best Bagpipe Reviews 2023
An important note when purchasing a full set of Great Highland Bagpipes is that they do not come will a case, extra reeds or maintenance items which you will need. Remember, you will want to protect your investment with a sturdy case and regular cleanings for the drones, bag and chanter.
McWilliams Professional Scottish Highland Bagpipe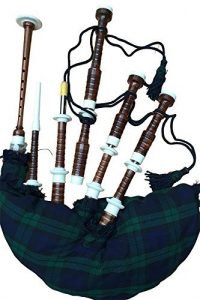 Click Here for Pricing, Pictures and Reviews on Amazon.com
Review: This set of quality bagpipes is manufactured by a well-known brand. The use of ivory mounts adds to the sound quality and distinctive look of the bagpipes whilst the pipes themselves are completely tuneable.
Pros
Professional bagpipes set.
Great tuning options.
Quality manufacturer.
Cons
This set of bagpipes is for you if you are a professional player looking for an extra finesse in their new set of bagpipes.
AAR Scottish Bagpipe Rosewood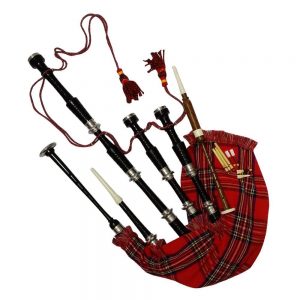 Click Here for Pricing, Pictures and Reviews on Amazon.com
Review: This set of bagpipes are striking to the eye and the ear. The synthetic bag and reeds allow for long-lasting durability and mean that this instrument is playable in different humidity.
Pros
Best cheap bagpipes.
Synthetic bag and reeds for added durability.
Chanter included for practise.
Cons
Not an easy set to play for a beginner.
This set of bagpipes is for you if you are looking for the best budget bagpipes on the market.
Trophy Music Junior Bagpipes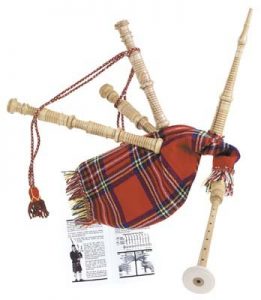 Click Here for Pricing, Pictures and Reviews on Amazon.com
Review: This junior set of bagpipes will offer a small size of instrument for a child to learn on. It will suit their size better than a full-sized set of bagpipes but will allow for them to learn to play in the exact same way as with a regular set.
The sound quality is on a par with regular bagpipes.
Pros
Great for kids.
Cheaper model.
Great sounding set of bagpipes.
Cons
Would need upgrading with stature and proficiency.
This set of bagpipes is for you if you want a smaller sized set of bagpipes for a child to learn on.
McWilliams Professional Scottish Highland Bagpipe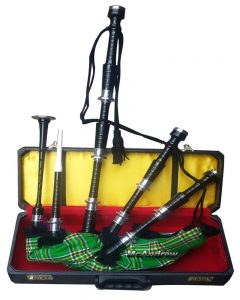 Click Here for Pricing, Pictures and Reviews on Amazon.com
Review: This fully tuneable set of bagpipes offers a quality sound and intonation. The green tartan set of bagpipes representing Ireland is sold in a hard box to keep them safe from damage.
Pros
Comes with practise chanter pipe.
Fully tuneable.
Damage-proof box.
Cons
This set of bagpipes is for you if you wish to be able to tune your bagpipes with great intonation.
Full Size Scottish Great Highland Rosewood Bagpipe Complete Wooden Set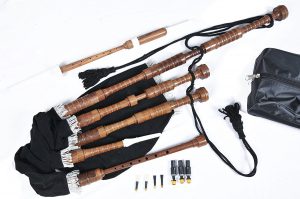 Click Here for Pricing, Pictures and Reviews on Amazon.com
Review: This authentic wooden set of bagpipes is a good quality option for an adult beginner player. The reeds and bag are synthetic making them durable and great for playing in different humidity.
Pros
Comes as part of a starter package.
Great sounding instrument.
Ready to play and learn.
Cons
More expensive than most.
This set of bagpipes is for you if you want to start playing on a full-sized model straight away.
Bagpipe Black Mounts Full Nickel Silver with Bag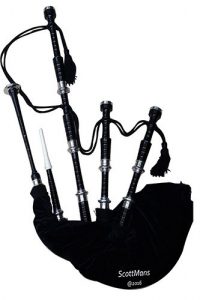 Click Here for Pricing, Pictures and Reviews on Amazon.com
Review: This stylish set of bagpipes is a suitable set for an adult beginner. It offers the ease of play with the benefit of being full-sized to learn straight off how to play.
Pros
Cheaper than most full-sized options.
Tuneable bagpipes set.
Both cane and plastic reeds available with the bagpipes.
Cons
Would need upgrading with proficiency.
This set of bagpipes is for you if you are a beginner looking to start with a full-sized set of bagpipes.
On a Final Note…
Your next step is just one click away. Having understood the considerations on this website and thought about your needs, you should be in a position to make you purchase.
Remember to use our bagpipe reviews above to select and click on the bagpipes for you above ensuring you get exactly what you are looking for.
The best bagpipes for you could be with you in a matter of days.