When deciding to purchase a new instrument there are many options to choose from.
How can you be sure you are getting the best tenor saxophone for you?
This quick guide will give you all the information you need to make the right choices before you purchase from the best tenor saxophone brands.
What is a Tenor Saxophone?
Tenor Saxophone has an inherent "it" factor. From its cool appearance to its smooth sound, the tenor is a favorite of aspiring and seasoned woodwind instrumentalists.
Given the tenor's tremendous popularity, a cornucopia of manufacturers produce the instrument hoping to entice the would-be consumer to bring their particular tenor home to the studio.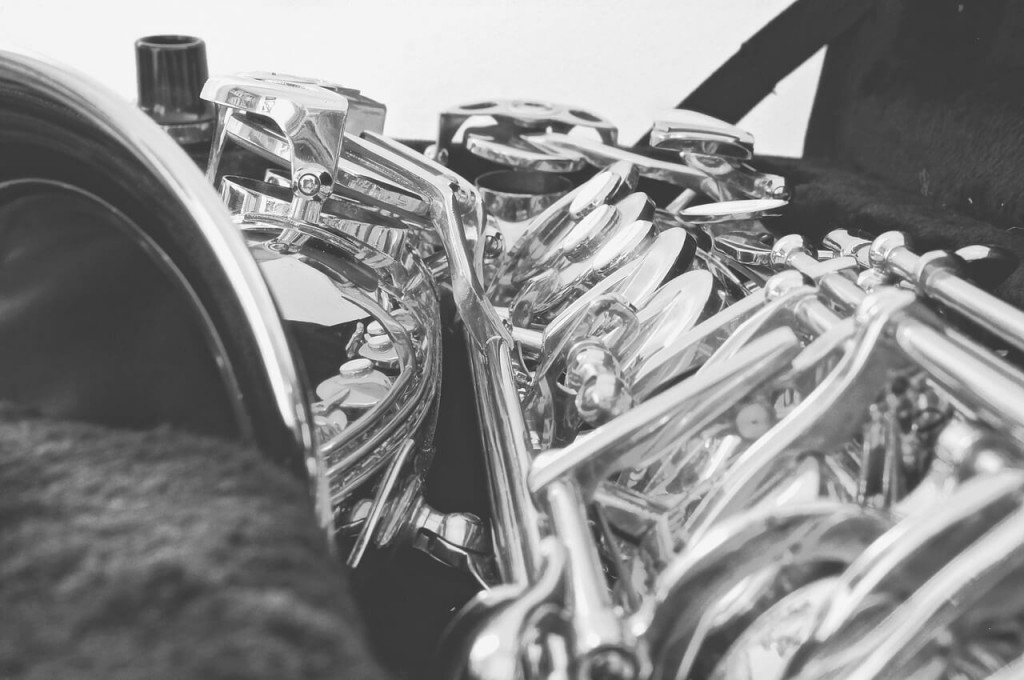 What does this mean for the musician?
A tenor saxophonist trying to buy the best tenor sax for them must thresh through good tenor saxophone brands and decide which of their playing characteristics suit their needs.
They must ensure that the ideal instrument is tested, selected and purchased at a price that does not "break the bank."
Things to keep in mind:
For professionals it seems obvious but saxophone and tenor saxophone are not synonymous.
Ensure when purchasing you have the correct instrument as there are so many different types of saxophone and for a novice looking to buy you must be sure it's the right one or you will make an expensive mistake.
Don't become overwhelmed by your options.
There are so many tenor saxophones on the market it can be a daunting task to start out. Before you begin think through the answers to these questions to help filter through to the best options for your needs:
Am I a beginner, intermediate or professional player?
How am I most likely to play the tenor saxophone (solo, lead in ensemble or background in ensemble)?
What is my budget range?
How to ensure you have the best tenor saxophone for your needs:
The Body
Tenor Saxophones can sometimes feel bulky if the body is shaped in a way that you are not used to or suited to by stature.
You need to consider your comfort levels and ability to get your hands around the body the place your fingers on the keys. Often finished with a lacquer, the body is not distinguished by this feature as better or worse than the next.
The Keys
Choices on the keys' materials are mostly cosmetic including options such as mother of pearl, brass or nickel.
Whilst this might seem an important choice to make when choosing your tenor saxophone it makes little difference to the quality of the instrument or sound you produce.
The Rods
This part of the tenor saxophone is by far an important consideration.
Flimsy materials made into rods will quickly deteriorate with heavy playing and so choosing a tenor saxophone with good quality rods can be the difference between choosing one that lasts or breaks easily.
Student models often come with roads that are silver when the body is gold.
The Pads
When trying out your model be sure that all pads cover the holes especially when looking into student and intermediate models.
Check that the pads are soft to touch to see if they are a good quality that will last longer.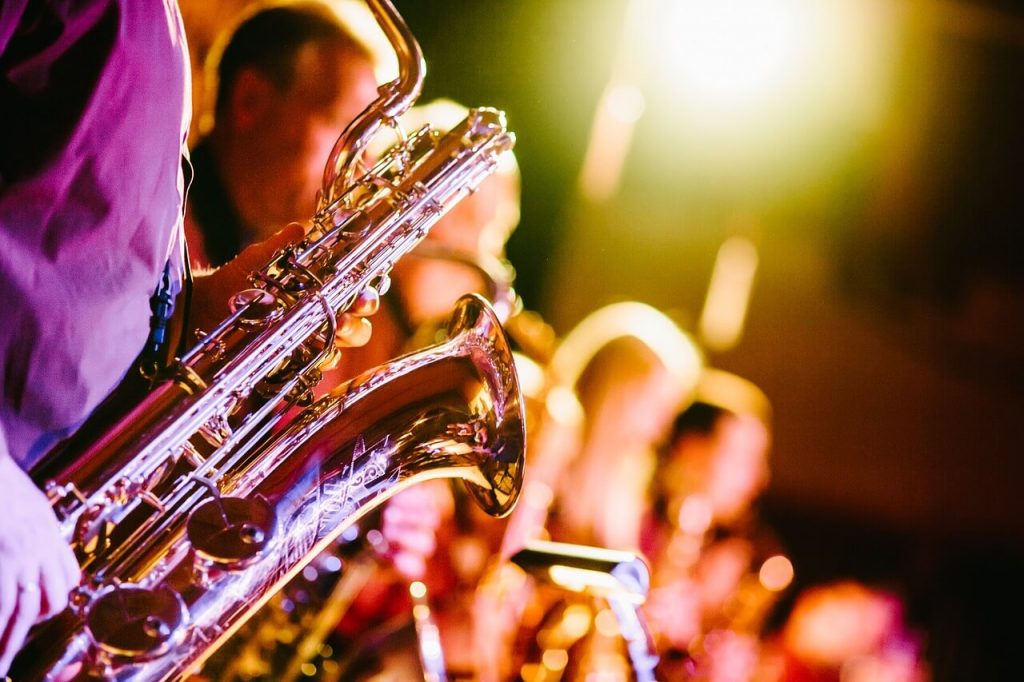 How do I know I have the best tenor sax for me?
There is only one way to know what's right for you and that's to play it.
So head to your local music shop or supplier and try out the brands and models you are interested in.
The feel of the instrument will tell you all you need to know about whether it is right for you.
If you have a mouthpiece that you are comfortable and used to playing with take that along too. You will find that it could make the difference between loving and hating an instrument if you use an alternative mouthpiece that you are used to using.
Best Tenor Saxophone brands
The list of tenors that follows, while not exhaustive, should provide the saxophonist with some strong options for consideration.
Regardless of proficiency level and budget, a tenor player should select a particular instrument over a particular brand.
Name and reputation mean nothing if the instrument is not the right one for the instrumentalist.
Alpine
In the novice market, the Alpine line of saxophones are a sure thing.
Without compromising the construction and tonal quality of the instrument, Alpine creates tenors that feature excellent playability at an affordable price. By far the best beginner tenor saxophone option.
While most student Alpines are constructed of brass, they feature a durable epoxy coating that makes the instrument quite sturdy even if it is taking a beating from a beginning tenor. This brand will see you right if you are looking for your first tenor saxophone.
Keilwerth
Keilwerth Tenors come at a premium price and are appropriate for the professional audience.
While recognized for rich lacquered finishes, mother-of-pearl keys, and exquisite mechanics, the Keilwerths tend to be underappreciated for the sound they produce.
In the hands of a proficient musician, a Keilwerth is the best professional tenor saxophone option.
It produces a warm, melodic sound. Often used for ballads and adagio solos with the symphonic band, Keilwerth tenors take smoothness to new heights.
Yanagisawa and Vito
Leblanc subsidiaries Yanagisawa and Vito offer excellent instruments at the two extremes of the tenor market.
High end options in the Yanagisawa brand are excellent options for the professional player.
The Vito family of tenors are crafted and priced for beginners.
Named after Vito Pascucci, the woodwind repairman for the Glenn Miller orchestra, Vito saxes are a mainstay in student ensembles.
Selmer
The Selmer name is synonymous with quality, reliability, and musicality. Known to hold their value as they age, Selmers find their way into many professional studios and ensembles.
Click here and read full article: Best Selmer Saxophones 2019.
Yamaha
When it comes to tenor saxophones, Yamaha's models continue to stand above the rest.
Renowned by artists of all ability levels and playing contexts, Yamahas provide a "birth to grave" continuum of options as the tenor player deepens his or her skill set.
Like other top brands, Yamaha is known for producing instruments of consistent quality throughout all levels of tenor performance.
Whilst the Yamaha 82Z is perhaps the most exotic tenor saxophone option available today, it is coupled with options at the beginners level of the tenor sax world.
Crafted in French brass with mother-of-pearl embellishments, the 82Z is known by many professionals as the "Custom."
Yamaha also offers stellar starter instruments and are considered the best student tenor saxophone options.
While the YAS and YTS saxophones are manufactured to Yamaha's exacting standards, they are sized and priced for the novice.
Click here and read full article: Best Yamaha Saxophones 2019.
TOP 6 Best Tenor Saxophone Reviews 2019
Mendini by Cecilio MTS-L+92D Gold Lacquer B Flat Tenor Saxophone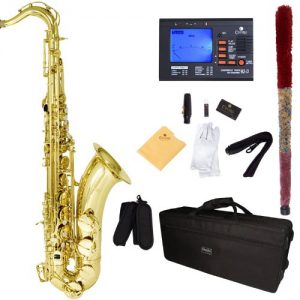 Click Here for Pricing, Pictures and Reviews on Amazon.com
Review: The Mendini MTS-L+92D is the best tenor saxophone for beginners option for price.
The instrument comes with a kit of 10 reeds, tuner, case and mouthpiece to get you started.
Pros:
Inexpensive.
Stylish look options to choose from at no extra cost.
Extra kit to get you started.
Cons:
Would need upgrading with proficiency.
This tenor saxophone is best for:  a cheap start to your tenor sax career. The best cheap tenor saxophone!
Jean Paul USA TS-400 Tenor Saxophone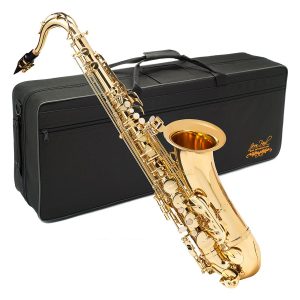 Click Here for Pricing, Pictures and Reviews on Amazon.com
Review: This durable tenor saxophone is the best tenor saxophone for beginners as it has potential to see them further. It comes in a carry case and is suitable for beginners through to intermediate players. It has an exceptional tone quality yet is robust.
Pros:
Great tone for a beginner/intermediate option.
Can be bashed about without too much damage.
Cons:
More expensive for a beginner tenor saxophone.
This tenor saxophone is best for: intermediate players who wish to soar through the ensemble.
Yamaha YTS-82ZII Custom Z Tenor Saxophone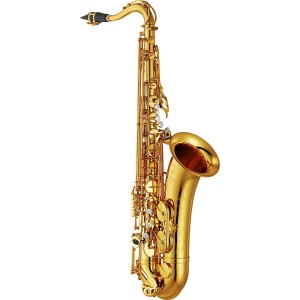 Click Here for Pricing, Pictures and Reviews on Amazon.com
Review: This customizable professional option is an expensive way to purchase your favourite selection of features for your tenor sax.
If you are looking for the best tenor sax for the money, then move on with your search. But if custom options are what you are after this is the tenor sax for you. Yamaha will ensure your 82Z will not need repairing with durable materials used.
When expense is not a concern for the would-be 82 owner, Yamaha designers gladly take the 82Z base and sketch a finished product that meets the needs and desires of the professional musician.
Gold plating, crystal keys, and wool felt pads are among the myriad options available on the Custom.
When the tenor nears completion, Yamaha designers will even entertain the professional's preferred design and messaging for the bell of the saxophone.
Customization aside, the real beauty of the 82Z lies in its sound production.
Pros:
Custom made.
Airtight body.
Deftly manufactured key holes.
Incredible sound production.
Complete peace of mind.
Cons:
This tenor saxophone is best for: when money is not an issue but player desires are key.
Selmer Tenor TS44 Professional Saxophone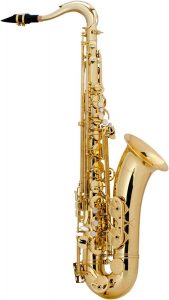 Click Here for Pricing, Pictures and Reviews on Amazon.com
Review: Recognized for a great quality sound, the TS44 is often deployed in the jazz setting, but also has a versatility that has it at home in a chamber or symphonic ensemble.
This professional option is loved by saxophonists and comes at a reasonable price for a professional model.
Pros:
Relatively cheap for professional model.
Great tone and sound quality.
Compares well to professional ranges.
Cons:
Does not have the full quality of more expensive professional brands.
This tenor saxophone is best for: a budding professional with a smaller budget.
Yanagisawa T902 Tenor Saxophone Bronze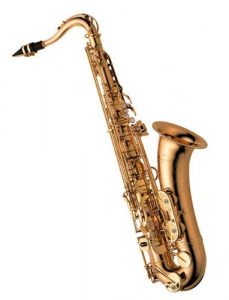 Click Here for Pricing, Pictures and Reviews on Amazon.com
Review: A bronze finished tenor saxophone the YanagisawaT902 is a beautiful professional tenor saxophone. It has well-engineered rods and keys to allow for the swift and easy movement between octaves and notes.
This would be a go to for budding professionals.
Pros:
Movement between notes easy.
Beautiful looking instrument.
Great for featured sax in an ensemble.
Cons:
This tenor saxophone is best for: Intermediates finding their feet as a soloist. The best intermediate tenor saxophone on the market.
Yamaha YTS26 Tenor Saxophone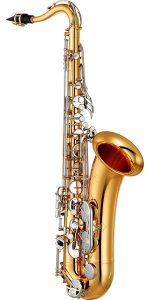 Click Here for Pricing, Pictures and Reviews on Amazon.com
Review: This popular branded tenor sax allows for the player to make headway when beginning their musical career.
The instrument is well constructed with the player in mind and offers durability alongside reliability.
Pros:
Popular brand.
Consistent tone quality and sound production.
Great for developing musicians.
Cons:
Higher end price for a student instrument.
This tenor saxophone is best for: beginners and intermediate players, who want a consistently reliable tenor sax.
So how do you move forwards with your search?
Consider your needs.
Try out a few different brands and models within your price range at your local music shop or supplier.
Visit a supplier to get the best deals and the quality of instrument you are looking for.
Tenor saxophones are lovely, versatile, and buttery smooth instruments.
Many novices are attracted to instrumental music after seeing and hearing a tenor belt the blues or hold down a counter melody in a symphonic work.
Likewise, selecting and owning the right tenor for the right musician is a wonderful opportunity that deepens the performer's reverence for the instrument.
As always, be patient when you select a tenor. Ask good questions. Consider the actual instrument over the brand of instrument.
Prepare for deepened playing enjoyment.