The harmonica seems so easy to pick up and play and so many people decide they want to have a try on a harmonica from day to day that the internet is crawling with deals to buy them.
If you want a harmonica you will find yourself flooded with choices for the best harmonica you can buy.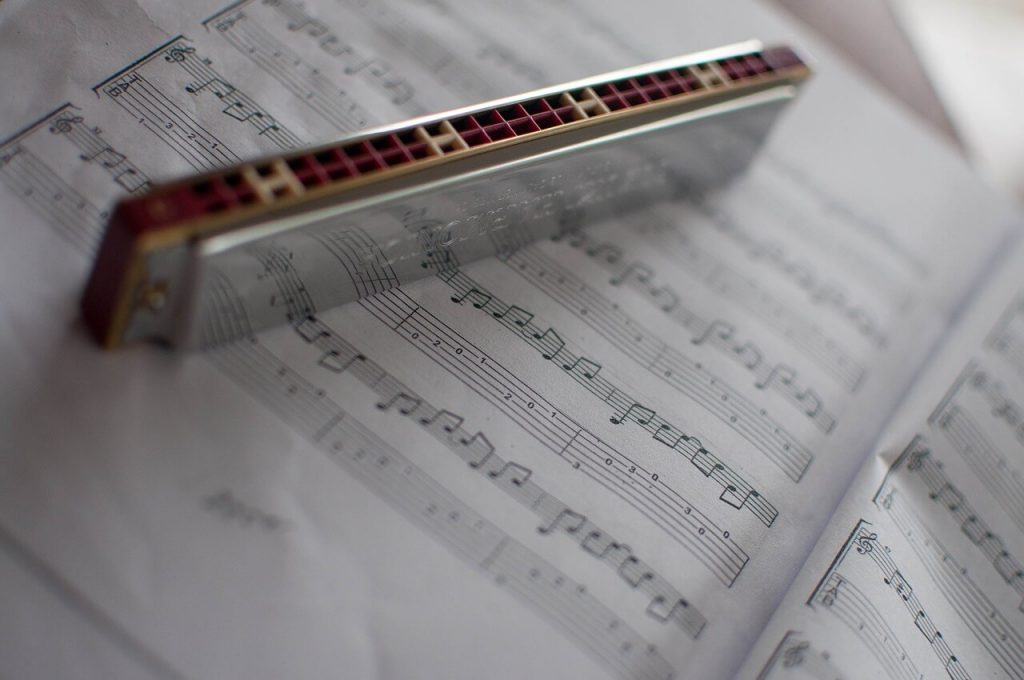 So Which One is Right for You?
The only way to make this task an easier one is to find out as much as you can about the purchase you are about to make.
It is worth understanding the tips and advice in this buyers' guide to help you choose the correct harmonica for you and your needs.
From the best blues harmonica to the best cheap chromatic harmonica, this article will give you all the information you need to move forward with your purchase.
Also, check out the harmonica reviews 2023 to select your best option below.
Beginner Buyer's Guide
This guide will give you an overview of how to make the best choices for your next harmonica purchase.
The intention is to help you understand everything you need to know before reading the reviews below and purchasing the best harmonica for the money you wish to spend. Read on to find out all you need to know and more.
Where to start?
When starting to play the harmonica, you really need to know what type of music you are wishing to play and for what purpose.
The harmonica is an easy instrument to pick up and learn as a small hobby for ten minutes a day, which is why the market is flooded with good beginner harmonica options. This, however, makes it quite difficult to choose the best harmonica for you.
It is important that if you want to be able to play all notes that you consider a chromatic harmonica as without this you will be limited in your note making capacity.
If you are looking to play blues or jazz whilst many will offer you a basic blues scale if you want the freedom of keys and notes then a chromatic harmonica would be the best harmonica for blues playing.

If you are looking for just a melody line and some quick outcomes, the best beginner harmonica is usually a 10-hole diatonic harmonica offering ease of play across a simple range of notes.
This will help you to master the skills needed and have easy outcomes for learning. This option is the best sounding harmonica for producing melodies.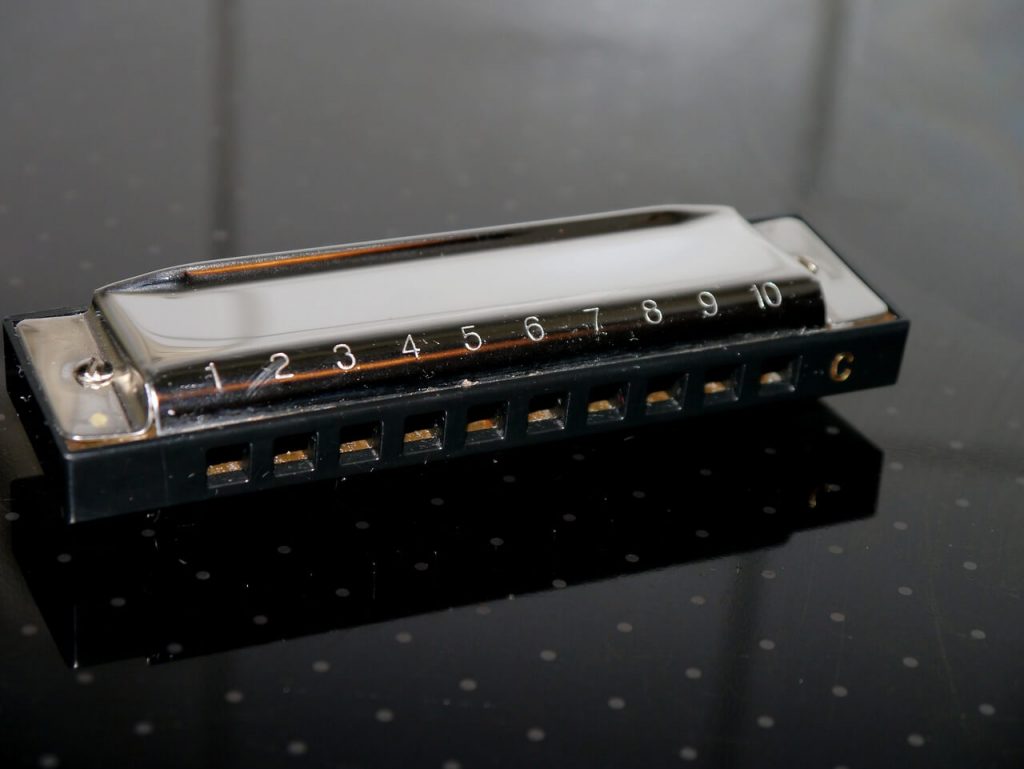 Different types of harmonica?
Diatonic harmonicas sound very much like blues music and can be tuned to each key including minor keys. These are the most common harmonicas and they bend notes very easily adding to the blues sounding feel.
Chromatic harmonicas play every semitone in the chromatic scale and offer the player to option to play a variety of keys and chords. The musical proficiency of the player has to be such that if reading music, they understand how to read each note to then play the melody lines correctly on a chromatic harmonica. If playing by ear this problem should be easily resolved.
Bass harmonicas play bass notes so have a pitch register in the lower octaves. Otherwise they function much the same as diatonic and chromatic harmonicas.
Chord harmonicas offer the player the capability of playing a set of notes by blowing through one hole to create a chord. This can be useful in ensemble pieces to add more weight to the sound of the harmonica and allow greater emphasis to its part within the ensemble.
Echo harmonica is a type of harmonica that allows for a more organ-like sound to be produced. The instrument is designed in such a way that an underlying rhythm is played at the same times as the melody over the top.
Tremolo harmonica plays almost straight melodies with the addition of bass notes in rhythm being available to add to harmonize the melody. This is not as complex to play as the echo harmonica but gives the player an option to achieve some of the similar effects.
How to play the harmonica?
A harmonica is played by resting your lips around the line of holes at the note you wish to play. Then the player must blow out or suck in to achieve the correct note.
Most harmonicas increment in tones or semitones as you move up the holes and sucking will offer a chord a fifth higher than blowing the same hole. This means you get a perfect cadence by staying in the same place and sucking in then blowing out.
Harmonicas can be easy to pick up and if you can read music then most melodies can be played with ease on the harmonica.
Depending on the type of harmonica you will have to learn to build up chords by moving air through one hole or more at a time.
This is the point where playing the harmonica can become more difficult. However, usually, if you have it right, you will find that the notes and chords you are producing will sound right to the ear.
This video shows you how to play a 10-hole diatonic harmonica one of the simplest harmonicas to understand. This is probably the best harmonica to start with.
How is blues harmonica different?
When playing a blues harmonica pattern, you must come up with a pattern and repeat it in different ways as seen in this video.
Best Harmonica Brands 2023
Searching for the best harmonica brand is a long and difficult task to undertake.
There are so many options out there. We have selected a short list of available brands that offer quality and good craftsmanship in their harmonicas.
This list though not extensive should help you to get a feel for what each brand has to offer.
Hohner
One of the most popular brands of harmonica, Hohner creates many different diatonic harmonicas all with different names.
Their quality is excellent and there is a clear reason that they are probably the most popular brand for harmonica purchases.
Hohner has an exceptional range that suits the needs of the best beginner harmonica player and the professional harmonica player. This is the brand of choice for most players.
Fender
Known for their popular guitar range, Fender offers a selection of harmonicas that were produced to be played along guitars.
Usually, a format for blues players the idea being that they can play the harmonica on a holder that links to the guitar whilst also playing the guitar.
Fender has produced a reasonable range to suit these needs. Often a blues tone is produced with this brand of harmonica.
Swan
Swan is a quality-assured harmonica brand that has a good reputation for offering quality cheaper harmonicas in their range. They specialize in creating good beginner harmonica options across their range.
This American brand offers their customers value for money and are very popular choices for the players starting a hobby of playing the harmonica.
How Do You Know which Harmonica to Buy for Your Needs?
Buying the right harmonica for your needs requires knowing your music style for the use of the harmonica.
It is important to consider whether you are after the ringing tones of the echo harmonica or the simple tones of the diatonic harmonica for creating a melody.
Once you have made that decision there are few more options to consider below.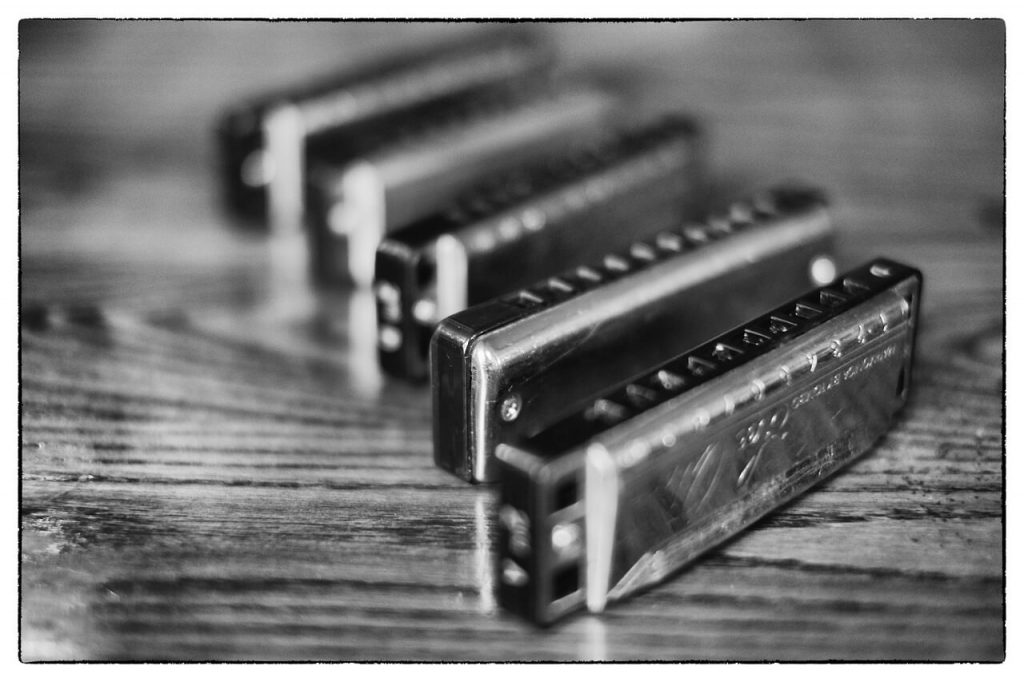 What is the Best Harmonica for Beginners?
It is easiest to play a diatonic harmonica and the key of C makes reading the music easier.
Usually, a beginner can pick up the playing patterns quite quickly and with ease on a diatonic harmonica.
The best beginner harmonica will allow the player to become proficient in the skill of blowing and sucking the notes and placing the lips in the correct places.
It will also mean that when moving onto some of the more complicated models for instance the chromatic and the echo harmonicas the additional playing elements can be easily added onto the skill already learnt.
What is the best harmonica for blues?
There are many options for blues harmonicas and it depends on the sounds you wish to achieve. As seen in the list of different harmonicas above there are many options for this.
The best blues harmonica usually offers the ability to bend notes and swoop into others. A diatonic harmonica does this with ease and sounds very effective. But bending notes on any harmonica is a possibility.
What about professional and chromatic harmonicas?
The best chromatic harmonica will offer you a range of notes like no other harmonica. They are more difficult to play because of this and require a lot of skill to do so.
Learning to play a chromatic harmonica throws up more challenges than a diatonic harmonica but the outcome is a player that needs only one harmonica to play in all pieces and with great proficiency.
Variations on a simple chromatic harmonica can also add different timbres and effects like echoes and tremelos.
The best professional harmonica will allow for specialist needs and can range into the $500+ mark.
For this you will be getting significantly tailored and customized options for your harmonica playing needs. A professional harmonica player with the right harmonica in their hands can wow any audience member repeatedly.
TOP 10 Best Harmonica Reviews 2023
Our harmonica reviews offer you an insight into the best harmonica purchases you can make. Whether you are looking for the best harmonica for beginners or the best harmonica for jazz, there is something here for you.
We have selected a range of harmonicas that are the best harmonicas 2023. These harmonica reviews will help you select your next purchase.
The Hohner Range
This range will offer a harmonica for everyone from the world's leading brand of harmonica.
Hohner Marine Band Harmonica in the Key of C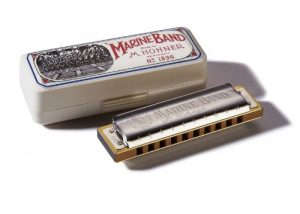 Click Here for Pricing, Pictures and Reviews on Amazon.com
Review: This wooden comb harmonica is a leading model.
The Hohner Marine Band Harmonica is a famous model used by many musicians in the past. It has a high-quality design and allows for notes to bend in the blues style.
Pros
A versatile harmonica can play a range of styles.
Easy blues tone and bending of notes.
Affordable option.
Cons
Because it is diatonic, you are limited to the singular key.
This harmonica would be great for a blues player looking for a quality diatonic harmonica.
Hohner Special 20 Diatonic Harmonica in a range of keys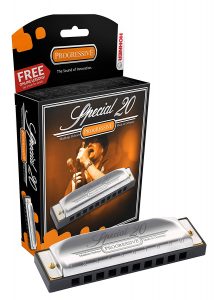 Click Here for Pricing, Pictures and Reviews on Amazon.com
Review: This affordable professional harmonica allows you to play with confidence a range of styles whilst not breaking the bank.
With 20 holes, this option offers a popular design that maximizes comfort when playing.
Pros
Comfortable to play.
Affordable professional model.
Offers the opportunity for a range of styles.
Cons
Some difficulties with intonation.
This harmonica would be great for a professional on a budget.
Hohner Blues band 1501BX Harmonica in the keys of C, G and A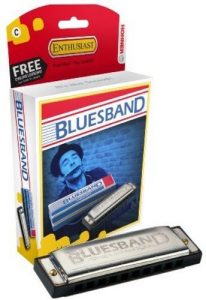 Review: This blues diatonic harmonica is a cheap option and great for beginners to start out on. It is one of the top selling models for the Hohner range.
Pros
Very affordable model.
Ease of play great for a beginner.
Cons
Not a very stylish model.
This harmonica would be great for a child or somebody looking to see if they like playing the harmonica.
Hohner 270BX super Chromonica in the key of C – A chromatic harmonica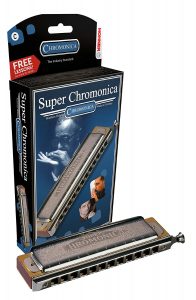 Review: This wooden-bodied harmonica is chromatic allowing for many notes and keys to be played with ease. This is a popular model from the Hohner range of harmonicas.
Pros
Chromatic range can be achieved.
The wooden body creates a stylish look.
Clean tone easily achieved.
Cons
Expensive.
Similarly-priced models are often better quality.
This harmonica would be great for a player already proficient in the techniques on a diatonic harmonica.
Hohner 7565 Chromatic Mesiterklasse Harmonica in the key of C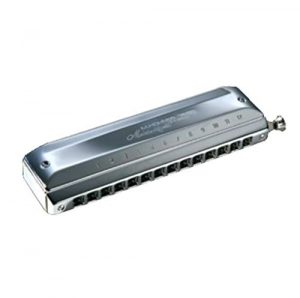 Click Here for Pricing, Pictures and Reviews on Amazon.com
Review: This professional harmonica is top of its kind. The beautiful instrument is crafted using anodized aluminum adding to its durability and sound quality.
The 14-hole chromatic harmonica allows the player to reach a great number of notes with ease. It has the same tonal range as a violin and this means it can play almost any melody.
Pros
Great tonal range.
Exceptional sound quality.
Would last an exceptionally long time due to durability features. E.g. anodized aluminum comb won't rust or falter.
Cons
Expensive model
To make the most of this instrument the player needs to be very proficient.
This harmonica would be great for the exceptional professional player needing the final added finesse of this harmonica.
The Fender Range
This range is produced to work perfectly alongside the guitar brand and offers great blues harmonica options.
Fender Blues Deluxe Harmonica in many different keys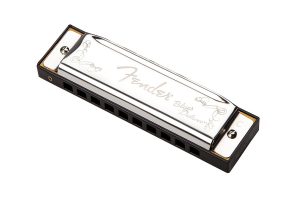 Click Here for Pricing, Pictures and Reviews on Amazon.com
Review: This easy blues harmonica allows the player to achieve the blues style. It is manufactured to allow comfort and would suit many levels of proficiency.
Pros
Affordable blues harmonica.
Comfortable to play.
A good option for any level of blues harmonica player.
Cons
Not as popular as some of the Hohner brand similar models.
This harmonica would be great for somebody wanting to start playing harmonica on a budget.
Fender Blues Deville Harmonica in the Key of C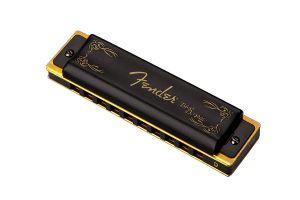 Click Here for Pricing, Pictures and Reviews on Amazon.com
Review: Made using bronze reeds and a PVC comb this fender harmonica plays with excellent sound quality and looks stylish.
The black and gold materials are produced in the usual shape for a harmonica and allow a player to look good and sound good.
Pros
Beautifully crafted harmonica.
Blues style easily achieved.
Excellent sound quality.
Cons
Higher notes are harder to sound than lower notes so may take some practice.
This harmonica would be great for a harmonica player who wishes to look stylish and sound stylish.
The Swan Range
This budget brand option will allow you to start up your harmonica playing with ease whilst being affordable.
Swan Chromatic Harmonica SW1040 in the key of C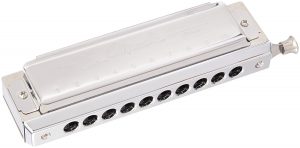 Click Here for Pricing, Pictures and Reviews on Amazon.com
Review: This chromatic harmonica is a budget option. Made from metal the style is great. Because of it being a chromatic harmonica, the player can adopt a range of styles and keys.
It takes more proficiency from the player to be able to play this harmonica than a diatonic one.
Pros
Suitable harmonica for a varied range of styles: pop, folk, blues, film.
A cheaper option for a chromatic harmonica.
Great appearance and durability due to the metal material used to make it.
Cons
Intonation can be problematic.
This harmonica would be great for a beginner wanting to play more than just one key. Also, somebody looking for a cheaper option for a chromatic harmonica.
Swan Blues diatonic harmonica for beginners in the key of C or G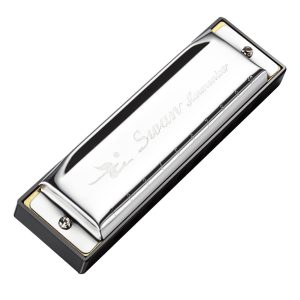 Click Here for Pricing, Pictures and Reviews on Amazon.com
Review: This affordable beginner harmonica is diatonic and will allow you to bend blues notes.
The key of C makes it easy to pick up and play simple melodies. Chords within a smaller range can be achieved on this harmonica.
Pros
An affordable harmonica.
Blues style easily achieved.
Great beginner option.
The plastic allows for additional durability.
Cons
Limited playing features if you are looking for additional sound quality.
This harmonica would be great for a blues player looking for a budget option or a beginner wanting to pick up the harmonica and get started.
Swan Diatonic Harmonica set of 7 – In a range of keys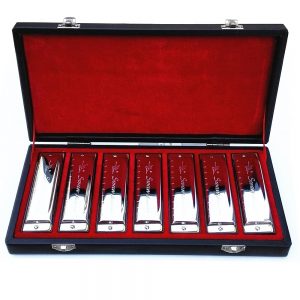 Click Here for Pricing, Pictures and Reviews on Amazon.com
Review: This great idea can be found across many different harmonica brands. The option of the set allows for many keys to be played by the harmonica player but without any difficulty of a complete style change in the harmonica.
This is an affordable option and requires less proficiency from the player than using a chromatic instrument would gain the same amount of different keys.
Pros
Cheap way to play variety of keys.
Excellent way to allow versatility.
Easy to pick up the diatonic playing.
Jazz and blues can be played on the diatonic harmonicas.
Cons
Limits the use of additional sound features like echoes and bass notes.
This harmonica would be great for somebody looking to play in many keys with ease.
And Finally…
Following a few easy steps to decide on your harmonica will lead you to make the right decision.
Remember:
Think about its uses.
Decide on your budget.
Select a harmonica from our listed brands and models in the harmonica reviews above.
The choice is now yours.
Following all our tips and advice your next harmonica purchase is just a click away. Read our reviews carefully to choose your best harmonica then finally get your hands on the one you've set your eye on.
You won't regret your decision.