The best trumpet reviews will help you to narrow down the many options to find one that really works best for you.
Choosing the right trumpet is imperative when you are a musician.
The hard part is narrowing down your list so that you choose a trumpet that matches not only your skill level but that also meets your budget constraints.
It can be very difficult to navigate all the options on your own, so we put together this review with the hope that it will make your search easier.
While we were doing the reviews we were even taken back by how many options there are. Many of them were very good options but there can only be a handful of bests.
We searched high and low to come up with this list and it was not easy. As a musician or a student without the background knowledge, it can be even more difficult.
These reviews will take a lot of the work out for you. We set up criteria to determine which trumpets were best which included the following:
Craftsmanship
Price point
Reputation
To make the best list the trumpet had to be a well-crafted instrument that is well designed.
Of course, it would be ideal if we could all drop a load of cash on the trumpet of our dreams but that is not typically possible so we wanted to be sure to give you a full range of price points to choose from as well.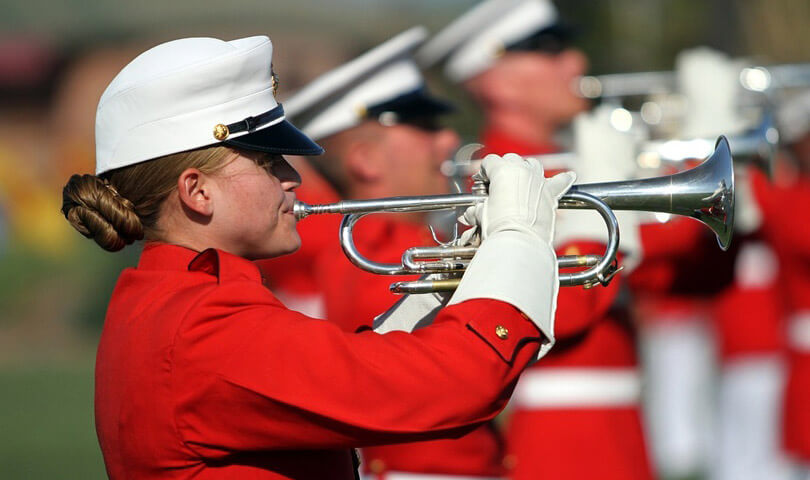 The reputation of the trumpet was also a big consideration for us. We wanted to ensure that other users were just as impressed as we were with a model before we added it to the list.
What other users have to say play a big role in choosing the right trumpet.
Usually, musicians and students are pretty honest when it comes to what their experience has been with a trumpet.
We read tons of reviews to help us compile this list of the finest trumpet reviews.
It was a tough choice but we were able to come up with 10 best trumpets that offer a nice range for both the student and the professional, we hope it helps you make your decision easier.
Here are the best trumpets for sale in 2018!
Let's Start with Introductory Student Trumpets
Etude ETR-100 Series Student Bb Trumpet
Etude ETR 100 Series – The Etude ETR 100 Series falls into the student category. It offers a nice sized bore to aid in the student's play.
The easier to play design will work well to encourage a student by rewarding them with great sound.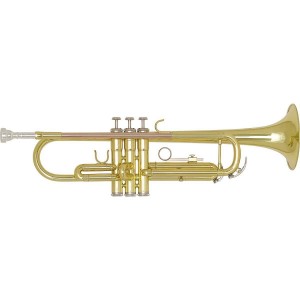 Click Here for Pricing, Pictures and Reviews on Amazon.com
This model offers easy to achieve projection thanks to the red brass lead pipe.
It is a good quality trumpet for the beginner.
We have heard and read many positive reviews online that support the idea that this trumpet is a great option for students.
It comes highly recommended by users which is always a good indicator of a quality instrument.
LJ Hutcheon BB Trumpet Review
LJ Hutcheon BB Trumpet – LJ Hutcheon offers the BB trumpet that is made from high-quality material that offers the beginner a great sounding trumpet that is easy to play.
This is a very affordable high-quality trumpet that has a long history of providing great options for students.
The BB Trumpet offers bell and bore for excellence in resonance and intonation. This is a highly rated instrument that can help any student to excel. It comes complete with a durable case that is fully lined.
Allora ATR 101 Silver Bb Trumpet Review
Allora ATR 101 Silver – This is a trumpet with a medium sized large bore it offers a lead pipe and a brass bell.
The Allora ATR 101 Silver has Monel piston valves with a sturdy thumb saddle. It includes a highly durable case and a 7C mouthpiece.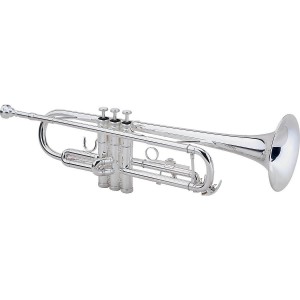 Click Here for Pricing, Pictures and Reviews on Amazon.com
This trumpet comes with a fully lined case and also comes with some nice recommendations from other people that have purchased it. This is a great beginner trumpet that would serve any student well.
Yamaha YTR 2330 Student B Trumpet Review
Yamaha YTR 2330 Student B Trumpet – This model is a bit more expensive than the other models we have reviewed thus far but it is well worth the additional investment because this trumpet is not only one of the better student model options but it will carry the student through different skill levels which ultimately saves you some money.

Click Here for Pricing, Pictures and Reviews on Amazon.com
It offers Monel piston valves and a .459 bore. It is a Yamaha which is a name you can count on. It has a brilliant gold lacquer finish that is durable and really stands out. It does not come with a case.
Intermediate Trumpets
King 2055 Silver Flair Series Bb Trumpet Review
King 2055 Silver Flair Series – The King 2055 is a deluxe trumpet that comes with a deluxe price tag. It comes in at the higher end of the price spectrum but you do get a lot of trumpet for the price.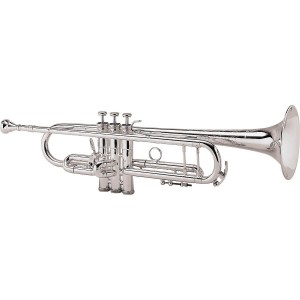 Click Here for Pricing, Pictures and Reviews on Amazon.com
It has plenty of upgrades like a seamless bell and a deluxe wood shell mouthpiece. It has a deep silver luster finish and would make any trumpet player proud.
Getzen 590S BB Trumpet Review
Getzen 590S BB Trumpet – 3/4 bore and a yellow silver nickel mouthpiece. It offers a 3rd valve adjusting sliding ring.
It is a nicely made trumpet that comes complete with a solid wood case for easy transport and storage.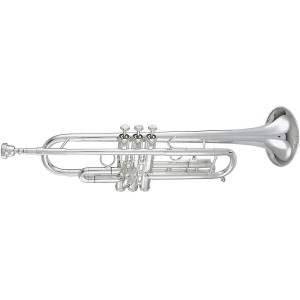 Click Here for Pricing, Pictures and Reviews on Amazon.com
This is also a more expensive model but it is not really meant for beginners, although most beginners would certainly love to have one. It is more of an intermediate or advanced player option.
Professional or Advanced Student Trumpets
Bach TR 200S Intermediate Trumpet Review
Bach TR 200S Intermediate Trumpet – This trumpet is a very nice option for the intermediate player. It offers all of the features that make a trumpet a nice intermediate option.
It offers Monel metal pistons that are encased in a 2-point nylon valve guides. It has 2 water keys with nickel silver tuning slide.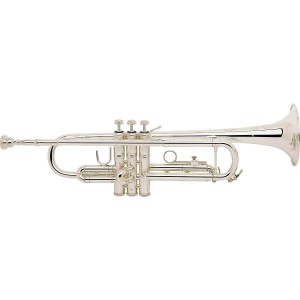 Click Here for Pricing, Pictures and Reviews on Amazon.com
It is a very nice instrument that would absolutely be a great choice for any intermediate student and beyond.
It is a bit pricey but no one is complaining about the cost because the value is there. This trumpet comes highly recommended by other users.
Yamaha YTR-8335RGS Professional Xeno Trumpet
Yamaha YTR 8335RGS Professional – This is a professional grade trumpet and it shows. It has all of the upgraded features that you would expect to find on a professional instrument.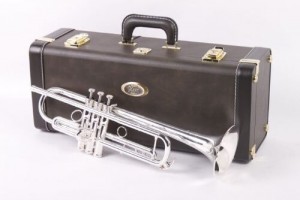 Click Here for Pricing, Pictures and Reviews on Amazon.com
This trumpet is well known for creating superior trumpets and the YTR 8335RGS Professional echo's that sentiment nicely.
Bach LR180S37 Stradivarius Series Bb Trumpet
Bach Stradivarius Series – This trumpet is very popular among professional players. This professional trumpet offers all the bells and whistles that you would expect at this price point.
It offers a deep resonance and even intonation. The response is excellent and one of the heralded qualities of this trumpet that makes it a much loved trumpet for professionals.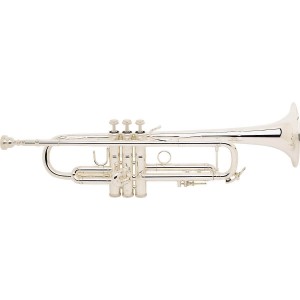 Click Here for Pricing, Pictures and Reviews on Amazon.com
This silver plated trumpet offers a yellow brass bell. It comes with a hard body case that is fully lined to ensure protection and easy transport.
This very popular professional trumpet has earned its right as an industry preference. It is carefully crafted and each instrument is tested to ensure perfection.
This trumpet is the height of craftsmanship and it shows.
Kanstul 1000 Series Bb Trumpet Review
Kanstul 1000 Series BB Trumpet – this professional trumpet offers a .460 bore and a .464 lead pipe. It offers some really nice touches like a single piece hand hammered bell.
A great deal of care goes into creating each and every Kanstul 1000 Series BB Trumpet. This is another model that is favored by professionals around the world.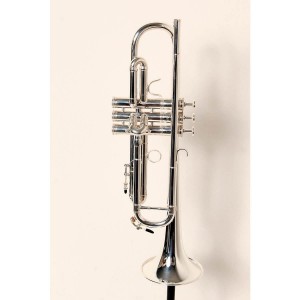 Click Here for Pricing, Pictures and Reviews on Amazon.com
It has a Double Gig Bag mouth piece and a distinctive 2nd valve slide case.  It has Monel metal valves and metal valve guide case.
According to all of the experts, it is well worth the sizable investment if you are a professional or very advanced student.
Overall
The price range of trumpets is as varied as the type of trumpets that are available. When it comes to trumpets you really do pay for what you get.
Spending too much money on a beginning student trumpet may not be the best option until you are sure that the student is going to stick with the lessons but don't skimp.
A trumpet that is too cheap can actually discourage a student from following through on their lessons.
When a student is first introduced to the trumpet it is important that they have a good quality instrument to get off to the right start.
When a beginner can create music that sounds good because the instrument is of good quality it will encourage the continued practice.
At any skill level, the quality of the trumpet plays a huge role in how the music will be perceived.
Of course, with any instrument the quality is important but the trumpet plays an especially important role in how the sound is created.
Obviously, at the professional level, you need to have a really reliable great sounding instrument that will project the music across the venue!
You might find this interesting: