My first was a King model 2370 with a rickety, fiberglass bell, three finicky piston valves, and a leaky lead pipe.
Tubists, and most instrumentalists for that matter, remember the look, feel, and tonal characteristics of their first instrument.
These entry-level instruments, usually sized to fit the smaller frame of the child or preteen musician, provide the novice with ample opportunity to take the instrument "out for a spin" without overwhelming the operator with inappropriate size, awkward valve action, taunt stringing, and the like.

| | | |
| --- | --- | --- |
| Schiller American Heritage Tuba | Ravel 4 valve student model Tuba | Jupiter JTU1110 4 valve Concert Tuba |
As the musician grows in stature and instrument proficiency, the options for "bigger and better" instruments abound.
Quick buying guide for beginners
Many tubists at the start of their playing career long for their very own tuba but the market for larger brass instruments can be costly and a considerably difficult to decide on such an important purchase.
Leaving you with the question: where do I start?
Well look no further as this quick buying guide will help you make the right choice for your instrument purchase.
This article will take you through the need-to-knows for choosing the best beginner tuba as well as give you an insight into some brands to look out for in the future.
Find out more making the right decision to buy the best tuba for you by reading on.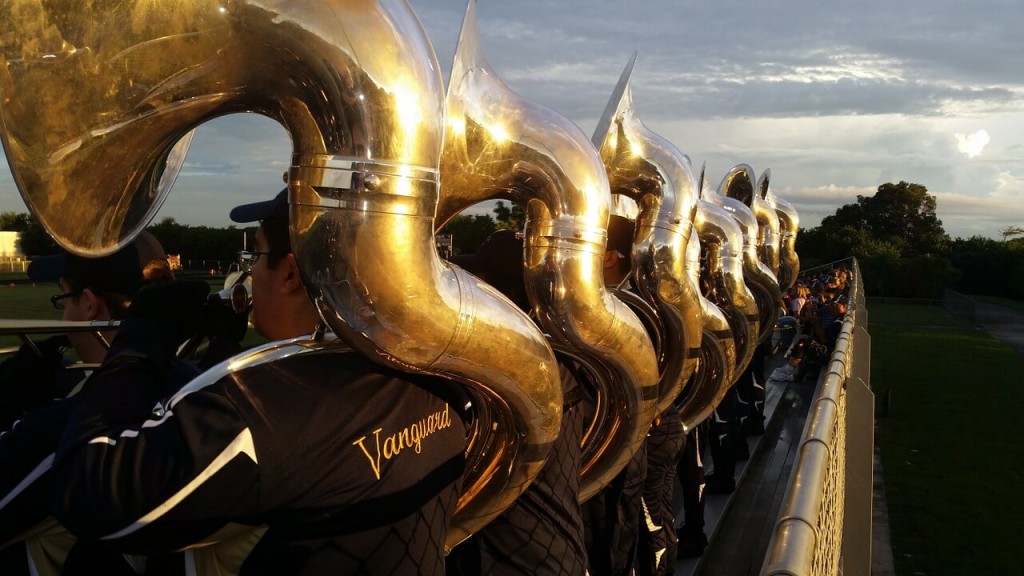 Factors to keep in mind
Most of the best tuba brands offer a ¾ size version of their models to provide for the needs of the tubist who is smaller on stature or the younger player still to grow.
This means you need to make the choice between buying a full sized instrument or a ¾ sized tuba to suit your size and stature.
Does size really matter?
For the tubist, the size of the instrument is always a consideration. A tuba is typically sized as a 3/4, 4/4, or 5/4 instrument.
The real meaning of size:
The smaller the numerator the smaller the instrument. While band directors normally pair the aspiring tubist with a 3/4 size instrument, a professional musician will almost always use a larger instrument because of the rich, dark, and round tone quality produced by the bigger horn.
Bore size, especially, provides a direct correlation to the instrument's tone. A wider airstream entering the valve section of the horn will obviously cultivate a different sound than the airstream produced by a smaller bore.
Here's the tricky part:
Tuba manufacturers all have different ideas of what constitutes a full size instrument versus a smaller, beginner instrument.
Yamaha's 4/4 is not Besson's 4/4. When the aspiring or seasoned tubist is selecting an instrument, nothing compares to actually playing the instrument in the supplier's studio.
In order to be able to play the instrument the choice between the sizes can be purely physical. Sit with a ¾ size, a 4/4 sized and a 5/4 sized tuba to compare your comfort levels of playing the tuba, your ability to reach the valves and the length of time you can hold the weight of the tuba for.
It is important to remember that most band rehearsals or concerts will require a minimum of 2 hours sitting and playing so you must be comfortable for a long period of time with the instrument.
Even lead pipe placement is a significant consideration. If the mouthpiece sits at the musician's forehead or chest, the particular model, regardless of how gorgeous it looks and musically edifying it sounds, will not work for the particular musician.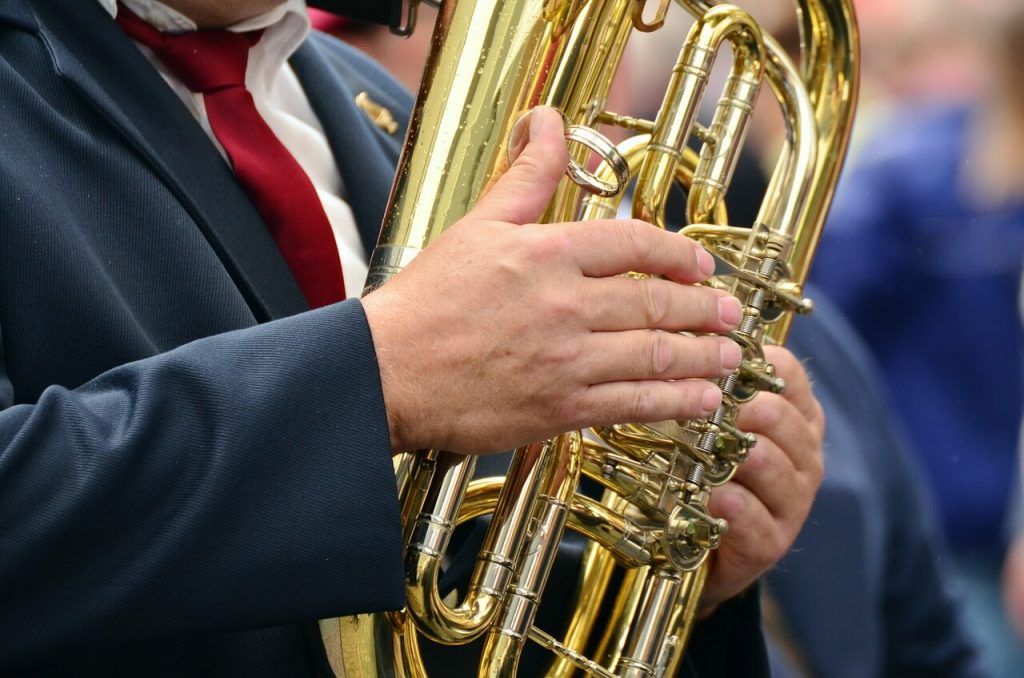 Materials
No one material is best for all players to some extent this comes down to preference when playing.
Brass (can be bought in yellow or gold): the gold option is more expensive as it has a higher copper content meaning a darker tone quality in the sound.
Nickel/silver: produces a bright and clear sound in comparison to the brass tubas.
Lacquer and plate finishes: can add particular tone qualities to fit unique musical contexts.
Valve options
There are two main types of valves on a tuba:
Piston Valves: spring loaded and mechanical meaning lower costs to purchase and for repairs. However, this valve can make moving between notes quite sluggish due to resistance.
Rotary Valves: a more complex east/west motion makes movement between notes more fluid and rapid. Again, the complexity of the rotary valve must be a consideration because of its fragility when compared to the piston valve, and the rotary's heightened repair costs.
But there's more…
Similarly, the number of valves on a particular instrument is a vital component in the selection process. The best tuba brands will offer options for 3 -5 valve tubas.
What's the best option for a beginner?
A beginner should always pair with a three valve instrument.
While the three valve horn limits low register production, it offers the new tubist a chance to learn the bulk of tuba fingerings even if the musician's motor skills are still in formation.
With heightened competency, the tubist should move on to a four (or perhaps a five) valve instrument.
In addition to extended low register production, the four and five valve horns afford the musician a bevy of alternate fingerings for some of the notes already in the musician's vocabulary.
Alternate fingerings are especially helpful when the bass section of a composition calls for a rapid progression of notes throughout the tuba's range.
Making the right decision about the key
Tubas can come in a range of keys and this needs to be carefully considered when choosing the best tuba for your playing needs.
Because of its broad sound production, BBb tubas are preferred in symphonic and marching band settings. In the absence of stringed instruments, the BBb provides a hearty, low register foundation for the rest of the ensemble.
In orchestral settings, in which the string bass is called upon to provide the foundational bass line for the ensemble, the tuba often provides a slightly more melodic contribution to the composition meaning the choice of a CC instrument can provide a more suitable tone.
As well as this the professional musician may prefer a tuba keyed in CC because of the brighter and tighter characteristics of its sound production.
But there's a downside:
Playing a CC tuba requires hearty transposition skills as most composers assume a BBb instrument when crafting the tuba score.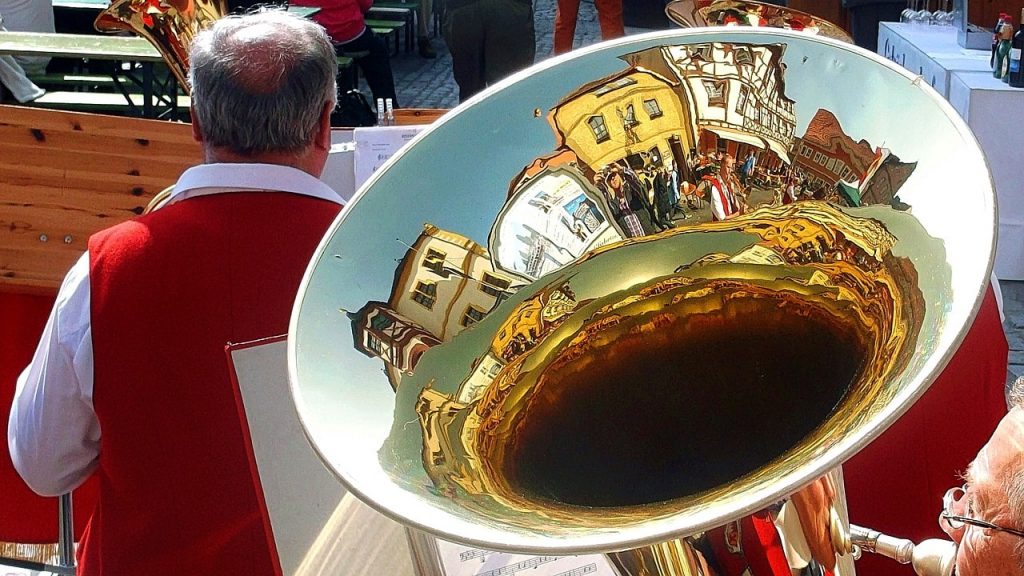 Ready to purchase?
Follow these simple steps to make your purchase the best tuba for you.
Step 1: considering the type of tuba you wish to play.
Decide upon what size of tuba is best for you and your comfort whilst playing.
Choose the materials for the tone you wish to achieve and numbers of valves to suit your ability.
Consider the key that will suit your performance needs best.
Step 2: visit a music shop to try some options out.
Checking the comfort, playability and tone you produce is by far the only way to know if a purchase is right for you.
With tubas coming in at over $1000 for new instruments you have to know that what you buy will be suited to your size, stature and tone quality.
Step 3: be sure to consider a few options in your price range.
Playing one instrument to the next is surprisingly easy to decipher your favorite brand.
The way it feels, the movement of the valves, the beauty of the tone are all ways in which you get a feel for the correct instrument for your musical needs.
Most important advice
Take a mouthpiece you are comfortable playing with to make the choice.
This is by far the most important thing to do when deciding on your purchase.
You are already used to your mouthpiece whilst the instrument can feel different with a different mouthpiece you will never be able to make the right decision for you.
Top 6 Best Tuba Reviews 2023
Schiller American Heritage 3 valve 3/4 Bb Tuba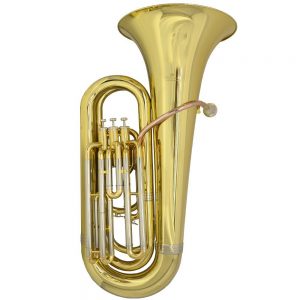 Click Here for Pricing, Pictures and Reviews on Amazon.com
Review: This inexpensive beginner instrument is a 3 valve ¾ sized Bb Tuba.
Pros:
Cheap.
¾ sized beginner's tuba
3 valve is great for starting out.
Cons:
Would need upgrading with stature and ability.
Great instrument for: School-aged musicians.
Ravel 4 valve student model Tuba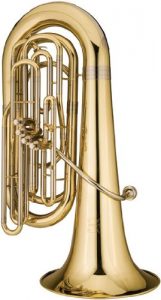 Click Here for Pricing, Pictures and Reviews on Amazon.com
Review: This inexpensive beginner instrument is a 3 valve ¾ sized Bb Tuba.
Pros:
No upgrade necessary with stature changes and increased competency.
Tone quality.
Full-sized.
Cons:
Not as cheap as some student models.
Great instrument for: a beginner with the stature to play the larger instrument.
Schiller American Heritage CC Rotary 3/4 Tuba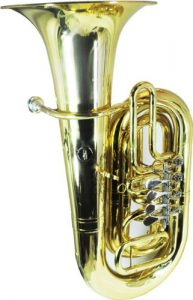 Click Here for Pricing, Pictures and Reviews on Amazon.com
Review: This ¾ size tuba is the best tuba for students as it offers the opportunity to become used to the demands of blowing a larger instrument at a reasonable price.
Pros:
Bright sounds.
Rotary valve system.
Cons:
Would need upgrading in size with growth of player.
Great instrument for: Youngsters starting out to build their lung capacity and move up to a larger instrument when ready.
Jupiter JTU1110 Concert Tuba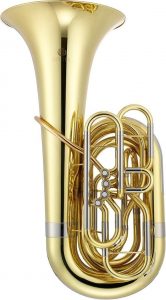 Click Here for Pricing, Pictures and Reviews on Amazon.com
Review: This concert horn is robust and suits the needs of intermediate players. This tuba comes with nickel/silver finish allowing for orchestra quality sound.
Pros:
Attractive price.
Great tone for orchestras.
4 valves.
Cons:
Not built for smaller musicians.
Great instrument for: an orchestral player with some experience.
Jupiter XO Professional C Tuba 5 Valve Silver Plated, 1680S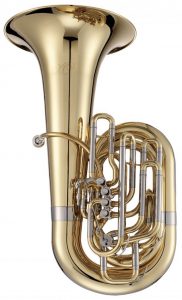 Click Here for Pricing, Pictures and Reviews on Amazon.com
Review: This professional range C tuba offers great tonal quality across the registers. A 4-piston valve instrument with 5th torot valve to add to the ease of note transitions, this tuba is not one to miss.
Pros:
Reasonably priced professional instrument.
Exceptional tone quality for soloists.
5 Valves – for ease of note changing.
Cons:
Not a good choice when playing the bass of an ensemble.
Great instrument for: Professional soloists benefitting from ease of tone throughout the register.
Yamaha 641 Professional Rotary valve Tuba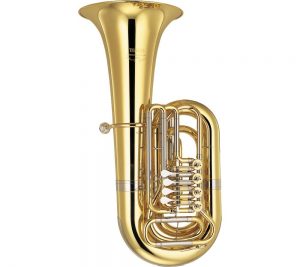 Click Here for Pricing, Pictures and Reviews on Amazon.com
Review: Beautiful instrument at a reasonable price for professional tone quality and ease of playing.
Pros:
Reasonably priced professional instrument.
Exceptional tone quality.
Rotary Valves – for ease of note changing.
Cons:
Valves can be expensive to repair.
Great instrument for: Professionals looking for a reasonable price.
Summary
With lots of sizes, finishes, and tonal flourishes to choose from, tuba selection requires both patience and research.
The best option always depends on the unique needs of the musician and you should definitely try a few out for 'size'.
Do your homework when selecting an instrument, ask questions, and take the time to hold and play the tuba you are considering for your studio.
Good luck and enjoy the music!